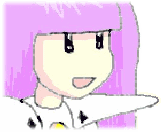 January 16th, 2004
Learning The Ropes
I think I am starting to get the hang of the new tools I am using. One thing that is new to me is the concept of layers. Layers are just that, seperate layers of a drawing (I work in Tif format for the originals, in 2250-3000 size pages) rather like overlapping transparent cels in animation. I can, for instance, draw line art on one layer, then effectively back-paint the line art just as I might an animation cel, by painting on a layer beneath it. This makes painting the images much, much easier, and has cut down my production time a bit. It is not as useful as DPaint's masking tools, but it works. What I really miss is a decent copy feature. I recently found that my main tool -Alias Sketchbook Pro- has a copy feature, but it lacks any capacity for transparency, and it can only capture rectangular regions. Worse, it does not preserve the transparency of the layer structure either. It is virtually useless to me. I have not yet used it. Lettering is done in JASC Paintshop Pro, and is very slow work.
I am still learning Corel Painter.
I am using these brand-new, state of the art tools, and I have to say, aside from the brilliance of the PC Tablet hardware, the software for art tools is lacking. Oh, there are some fancy features, to be sure, but the actual ease of use, of interface and functionality, of overall usefulness, is still bested by the ancient, creaking and moldy old Amiga DPaint.
I am shocked that an ancient program is still better designed, and more efficient, than the newest programs on the market. Shame that DPaint is so old, and so limited in terms of colors, memory, and operating system. An updated Dpaint would, at a stroke, uttely best anything and everything on the market. But then, DPaint was not designed by a programmer, it was designed by an artist, for how artists work. Alas.
So I am slogging away at these at once modern, and yet behind-the-curve tools, but I am seeing progress as I slowly figure out ways to work around their shortcomings.
Oh, for the power of grabbing anything on the screen, transparency maintained, with but a single swipe of the pointer, and then painting with that bitmap as a brush, instantly, effortlessly, using it as a stamp, using it to fill areas, using it in every possible way, without once having to SELECT, COPY TO CLIPBOARD, CUT, PASTE TO IMAGE, REPOSITION, and DESELECT. So many slow, slow steps, where in Dpaint, there is only....one. At least the tablet and pen absolutely ROCK.
Then again, having to draw and paint every single pixel of image on the screen uniquely, definately keeps my art honest. No cheating by reusing convienient and easy caches of spare parts, that's for sure. WAAAAAaaaa.....sob...snerk!