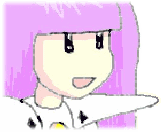 June 7th, 2004
Feeling Better
For the last week, I have been gripped by a strange illness, but I am doing better now, I think. This, of course, is why the story was not updated during this time. I simply could not do the work.
Today's page, was very hard to do, in that my hands did not seem to want to work smoothly. I'm not sure what is up with that; lines were difficult to draw, and the basic motions of illustration seemed troublesome to perform.
My illness began during dinner the week before, and started with a migrane-like attack, which for me progresses from a strange tingle and numbness on the back of my neck to the loss of a portion of my visual field, combined with pulsing, concentric circles of light and shadow. It is always the same part of my visual field, the right side. This time I lost only a quarter of my vision, but I have had similar attacks that lost fully half of my vision. The area does not go black, rather my brain compensates as with the 'blind spot' trying to fill in the lost vision, but failing at the task. It is quite disturbing. No, that's not true, it is quite terrifying, really.
But unlike previous migrane attacks, this was accompanied with some odd other effects: extreme exhaustion, falling asleep at inappropriate times, some lost of motor control, loose bowels, and a spot of trouble trying to say the full alphabet...JK and L were difficult, specifically. It was quite odd. There were, and still are, some terrible joint and muscle pains too. I still have a bit of loss of coordination, which I noticed trying to draw.
Sandra thinks I might have had some form of food poisoning, to be sure, I felt as if I had been poisoned, that kind of 'sick' feeling in the stomach and all over. Naturally, because of my panic disorder, my mind leaps to the zebra of having had some kind of stroke, but that is typical...my dysfunctional amygdala always tends to worry about the worst case for anything. I just expect that now, I am used to suffering such fears over every little thing.
Now I go into all of this because it was quite strange, and therefore news, which impacts the story here, in that it cost a week of drawing, and will likely continue, for a while, to make updates a bit erratic. Sorry about that. I just plain am not 100% yet. But...I am trying to get back to doing the story. I am very committed to finishing things I start.
Just please have patience with me as I -hopefully indeed!- continue to gradually feel better.