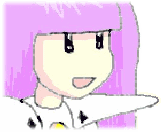 March 1st, 2004
Tough Times
Poor Chartreuse seems cursed with a horrible life, so many bad things happen to her. Of course, bad things happen to a lot of people, and the events of Glinu Chartreuse's life are taken from events I have lived through, or know directly of.
This has been, and is, a tough time for myself and my family, which makes an interesting parallel to what is happening within the story of Pastel Defender Heliotrope. As my family and I teeter but two months from homelessness, literally losing our home, and everything we own, with only two weeks of money left, and no jobs in immediate sight, the old specter of the horrors of abject streetcorner poverty once again in my life weigh heavily upon me. It definately makes drawing the parts of the story concerning Chartreuse especially gutwrenching for me as I do them.
Needless to say, in this time in American history, where the nation is in the middle of a Great Depression far greater in scope than that of the Great Depression of the 1930's, I am more than eager for a change of venue in terms of government. I see the force of partiarchal, right-wing Christianity looming to utterly crush the civil rights laboriously gained over the last sixty years from the lives of women, people of color, and Queer folk, and I see multinational corporations basking in free trade agreements with the third world that allow nearly literal slave labor to take away the jobs of people like the members of my family. It's hard even for the best programmer, like my Stephen, to compete with a man in India, say, who will do the same job for two thin dollars a day. Much less poor Eldenath, who would consider herself fortunate to have her receptionist job back. Without question, the current president, Bush, and his vile political machine, will be seen in the future as the most destructive political machine in the history of the United States, if indeed, the United States actually survives, intact.
This situation cannot help but flavor and color the work that I do. It has been suggested before that every artist is a product of their times, which is to say, the work of an artist is the product of what the artist lives through. In Chartreuse, I see the loss of rights for all manner of people, both in the past and the present, and I also see the destruction of lives caused by the violence of poverty, whatever the cause, be it bigotry, or policies that favor corporations that have no nation, no people, and no conscience.
Right now, I am unsure if this story will actually be able to be completed. Strangely, everything in my life right now depends on only one thing alone: whether or not the best potential wage earner in my family can finally, after months and months of trying, land a job within the next two weeks. It's horrifying.
I hope I get to finish Pastel Defender Heliotrope. And also incidentally, to keep a roof over my head, food in my belly, and ownership of all my incredible, wonderful crap. Anyone want to buy what is almost certainly the single largest and most complete collection of the history of PC and console software in North America? Mint condition. Only 2.5 million dollars, one third the actual value of the material. Contact me, immediately. Must supply own army of movers. Offer may be withdrawn at any time, so act fast. Offer may simply fade away too, like myself, so act fast.
On the plus side, I have begun a new area to the site, a comics review area, with a review of Kidd Radd, a brilliant neo-sprite comic, and set up an area to house a projected effort to put up my Multiversal Catalog System online, as a treat for those who might care. I am deliberately acting as though I have a future, because the alternative is...unacceptable to contemplate.
With just a small amount of good fortune, I hope to look back on this posting with relief, or indeed, at all.
A heads up, though. This all may end suddenly. Wish me, and my family, luck.