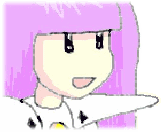 December 30th, 2005
Birthday Number 46
I was born December 30th. I have made it to the age of 46. That's moderately astonishing to me. There have been many times in my life where there was ample reason for me to imagine that I would not live to such an age. I would, of course, like to imagine making it to 86. Here's hoping, anyway. I have led a very unusual and arguably interesting life, yet to me, since it is all I know, I often forget such things, and imagine my life fairly boring. It is always interesting how the mind can render normal almost anything over time.
Today also marks the 45th birthday of one of my spouses, Stephen, who shares this same date with me. We have, for the past two decades, alternated choosing where we eat dinner, but because of my poor memory, it has become quite a joke in that I am always getting the poor end of this situation; somehow it was always my turn last year, no matter which year it is! This is seldom any problem of course, the choice being a formality; either way we end up somewhere nice, and that is all that counts. But we do like to play at how I am perpetually at a deficit, both in memory, and in choice!
It is not that my memory about events is truly poor, really, but rather that I am somehow unable to chronologically order my memories. Unlike everyone I talk to about such matters, it seems I am somehow unable to automatically know the order of my own memories. I have to reconstruct sequence by conscious effort, by thinking about little details surrounding a given memory, and guessing whether it came before or after any other given time, including the present moment. I remember things as discrete 'bubbles', as set pieces, with no before or after, and no relationship to date or each other. Any given memory could, to me, be yesterday, or a decade ago. Apparently, this is not how other people, at least my family members, memories operate. To them, their history is linear and ordered, like a book with a table of contents, and pages that do not shift about in sequence.
I may be 46, but to me this has no meaning or weight beyond the intellectual abstraction of it. Intellectually, it is bothersome, because I know the sands of my hourglass are pouring away, and I can reason roughly how much is left versus how much as been used up. Internally, I could be 16, or 25, or 8, and it would be the same to me as now...other than the basic issue that as one grows older, the body just hurts more and more. Yes, kiddies, it hurts to grow older. But it is better than the alternative, as they say. I would like to hope that this cliche phrase is not true, of course, but rationally, is almost certainly is. If I pay attention to my body, it definately feels different than the bubble set pieces in my memory. It feels crappier. Such is life.
One might imagine getting older is without redeeming value beyond survival alone; one has less energy, less physical soundness overall, there are many and almost constant random aches and pains, and all the systems of the flesh are less than in younger years. But despite this, the benefits of experience of life, if one has paid attention with an open and questing mind, act as a marvelous compensation. Where I have less energy, I have learned how to use what energy I have in intelligent and directed ways. There is less emotional turmoil over all, for many reasons, and this quietness allows for better decisions. I have learned not to fuss as much over hopeless, useless, and meaningless passions, and to value more the things that count most deeply in life...things often taken for granted in youth.
But one thing I have never lost is a childlike sense of wonder. I consider this to be one of my life's great achievements, actually.
When I was approximately ten, somewhen in that range of years, as best I can reconstruct, I have a very powerful set piece memory bubble.
I was about to board a school bus to gradeschool, and, as usual for me, a group of boys went out of their way to knock my books from my hands, hit me a bit, and call me names; faggot, freak, weirdo, egghead, know-it-all. In retrospect, I cannot say they were entirely wrong in all of those appellations, derogatory or not, but in any case I think you will agree their behavior to be rude.
As I salvaged my books, and my ego, and climbed into my seat in the bus, I remembered a bit of text from one of the books in my hands, I believe it was Issac Azimov's anthology 'Tomorrow's Children'..in his introduction, he talks about his own commitment to a 'sense of childlike wonder', to marvel at a leaf, or to see an ocean in a droplet of rain, that this is the foundation of science fiction.
In that moment, on that day, I closed my eyes tight, and swore an oath, an oath upon my own soul, and to the universe, that whatever happened to me, and whatever was my life, I would not be like those bullies that plagued me and other odd children, I would not be like my violent father, not be cruel, or mean, or narrow. I swore that I would always and forever keep alive within me, above all, as my guiding principle, a bright and childlike sense of wonder. I would never allow myself to grow old, grow up, or grow cold and cruel.
And, you know what? I have kept that promise, that oath, and that makes me very happy. Not proud, for to me, it is something basic that all beings should do...but happy that I can count myself as one who has done this minimal, yet vital -in every sense of the word- thing.
I am to this day filled with wonder at everything. Even as I type this, I find myself marvelling at the pretty heliotrope light that comprises this text upon my screen...I am writing with light as pure as that from any rainbow. It is really astonishing to realize such a thing, if you think about it...painting and writing with light, pure and wonderous color, glowing softly or brightly, from a rectangle of glass, or polycarbonate, hanging in the dark. No ancient painter ever had such a magical canvas, and no wizard could hope to scribe in immaterial light itself. But I digress.
To the point, as each day is like a new life to me, I see the dawning of my 46th tricentury of sorts, if you will, and I can't wait for new adventures to show up. Who knows what next marvel will graciously make itself known to my fevered awareness?
And being eager for new experiences, and willing to relish their wonder, is the very passion of life itself.