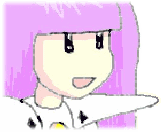 November 9th, 2005
The Power Of Television
Although one of my spouses worked for the news industry in Los Angeles, I should probably relate an experience I personally had to illuminate things a bit with regard to the Page Footnotes for today.
Sandi and I sat as part of the studio audience for several television shows during our time in Los Angeles, and I noticed something that happened at each one that truly bothered me, and which taught me something about the Americans I live in proximity to.
Sitting as a member of a studio audience, there are monitors placed all about for the audience to see, which display what is currently being filmed. These are certainly useful when pre-recorded bits are shown, of course. But what is so disturbing is that these monitors are watched continuously, by the live audience, from the moment they sit down, until the moment they leave. The entire audience does this, despite the fact that the action is occuring not 20 feet from them, right in front of their natural senses.
Few people ever watched the actual show, with their actual eyes, actually in front of them. I couldn't believe it. I sat there dumbfounded, and looked around at the people in the audience, their eyes transfixed, watching the show, be it a game show, a sketch comedy program, or a sitcom, purely and exclusively on the nearby monitors....and then I turned my head and saw the actual living performers, doing their stuff, right there, in front of everyone, in front of me, not 20 feet from me. They were right there, but they were not real somehow to the audience...the audience never even glanced at them for more than a moment before their eyes went right back to the monitors.
I couldn't believe what I was seeing. I asked myself why these people had bothered to come into the studio at all! There in front of them was the living, actual process of filming a show, with live people doing things, and the audience had come in to sit and watch television screens affixed above them at a neck-straining angle. What was wrong with these people?
Show after show, regardless of the type of show, it was always the same. Sometimes there would be some few others, like myself and Sandi, that would watch the stage and not the monitors...but the vast majority of the audience spent their time glued at the small televisions mounted on brackets above, and to the sides, of the stage area. It was surreal, unreal.
I remember a person, in my youth, who once fervently argued that 'Lost In Space' was real, was what the space program was all about, and that the NASA stuff on the news was the entertainment program, the fake show. They were convinced of this because 'Lost In Space' had interesting people in it, real people, and the NASA stuff was so boring it had to be fiction. Apparently, they thought that life was supposed to be like television, or perhaps that television literally was life.
Plato's Cave has become a frighteningly real thing, for far too many out there.