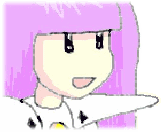 November 18th, 2006
Wii Consider
In the spirit that the news here is also a tiny bit of a personal journal as well, and that what affects the author affects her work, I will divert a bit from only talking about the comic and speak of current events in my life, which in this case is the upcoming release of the Nintendo Wii.
I'm signed up for a Wii, and lately I've been second-guessing myself over it, especially in light of the jaw dropping visuals of the overpriced Playstation 3. Did I make the right choice of systems?
I've been reflecting on just that, and here is what I have come up with. In a word, yes, but that affirmative is qualified by the nature of what I, personally, want from gaming.
I am a graphics whore, I could not be otherwise - I'm an artist, I like visuals - but images, however beautiful, even stunning, are not enough. I want more. I want more than just pretty images in the shows I watch, I want depth and new ideas, and in the comics I read, I want depth and new ideas, and so also with the games I play.
There is one thing the Wii does that beats the Playstation 3 like a sick pony, one lone thing that makes up for the Wii lacking cutting edge graphics, vastly superior sound, and unholy computational power, and that one thing is the core of the matter; the Wii offers a new experience.
I was attracted to video games because they allow me to enjoy experiences impossible in any other medium. In a game, on a PC, or a console, one can experience things that no tabletop diversion can provide, no book can offer, no movie give, and with regard to any computer game, interface is everything. It really is.
I remember the first Ape Escape game on the PS2...it used the PS2 controller in ways that I had never imagined it could be used, and introduced the existence of buttons (the stick buttons R2 and R3) that I had no idea were even part of the controller. But the real show was how the ordinary control elements were used...to row a boat in the game, the twin PS2 sticks were rotated, like using real oars, for example. This made what could have been a very ordinary (if delightfully whimsical) platformer into a new experience, one that was utterly memorable. So powerful, in fact, that soon every other game began making use of its control innovations.
The Nintendo DS shocked me with the uses of its touch-screen and stylus - I have a small PDA with stylus, and there are unending streams of little games you could download for it, but I have never bothered, because the games are basically just arcade ports, and use the small joypad device on the PDA...a poor cousin to a gameboy. But the DS, using no more than my PDA had, revolutionized games for me. All new experiences, born from incorporating a stylus as a game play interface. The many minigames of Wario on the DS, the bizarre antics of Pac Pix, the strangely captivating rainbow-drawing of Kirby's, and the wild fun of Meteos all made me realize...the unusual fun I was having, the sense of wonder, came from the interface, really. From using a stylus, instead of a joypad. It made old ideas new, and forced -more importantly- forced designers to invent new kinds of games.
Now that is the ticket, that is the grail, right there. New kinds of games, new experiences, not the same old crap. A new interface forces game designers to create games that can use it, and that means they must -at least sometimes- invent new kinds of games, and new kinds of play.
And that wonder of new experiences is what I want out of computer games. It is the meat, the rest, is gravy.
The Playstation 3 has lots of gravy. It makes pretty, pretty pictures, but in the entire starting line up, I couldn't find one title that was in the least bit new. All were just more of the same, products that could just as easily have come out for the PS2, albiet with less fancy graphics. None of them excited me.
But with the Wii, right out of the gate, everything is new. It's not as graphically amazing as the PS3, no, but I am convinced it will run circles around Sony's machine in terms of fun. What little time I have had playtesting the controller already has shown me that. With the Wii, you can swing a sword like a sword, golf like actually golfing, drive like actually driving, cut and measure and mix and hold and turn and move with natural arm motions...and in videos online of upcoming games...far more than that. One thing that sold me was an image of an upcoming flight game (Pilotwings, perhaps?) where the plane on the screen is flown by holding the Wiimote controller exactly like a model plane in the hands. Like how a child would hold a toy, tilting and zooming the toy, to imagine it flying. Only, onscreen, the virtual counterpart of the controller-as-toy-plane actually does fly, tilting and moving exactly in tune with the motions of one's hand. It is like reaching into the virtual world, and touching it, holding it.
The PS3 offers you a beautiful window and a joypad. The Wii offers you tongs to reach into the virtual window, and personally, directly manipulate the world inside. That...is a very new experience. That...is why I bother with games at all.
Pretty is nice, yes indeed. But deep and new and filled with wonder gives value to that pretty...and the lack of same makes such pretty into an empty shallow.
Someday, I may try to afford a PS3, if I can, but in the now, I think the Wii is the far better choice overall. In time, perhaps the PS3 may have something new to offer. Perhaps.
But the Wii...has a lot new to offer, right now, immediately, with gobs more to come.
I play games for fun, not to impress others, and not just to see amazing graphics. I play for fun, and especially for new kinds of fun. Yeah, I made the right choice...and not just because the Wii is vastly less expensive.
Those are my thoughts on the current console wars. The PS3 is very pretty. But she is nothing new. Not really. Just...a PS2, really, with a fresh lick of paint.
But the Wii, even if built on an upgraded Gamecube chassis, is a whole new kind of machine. The sum of what it is, and more importantly, how it is used, changes everything, and above all, grants the boon of a new way to play, a fresh and new kind of fun to be had.
That...is more important, to me at least, than all the fancy graphics in the world.