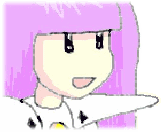 January 29th, 2006
Life And Death
One of my spouses, Eldenath, her dad just died. He was 80, and I only met him a few times, but I remember him surprisingly well. Kind of strange for me, since I don't remember faces, or names, or much of anything, especially since I've been on my damned but necessary anti-panic medication. I remember his voice, even kind of what he looked like. I don't know why. He wasn't that interesting, to be honest. It's strange how memory works, when it does.
His name was Warren, and the most notable thing I know about him is that he survived being blown off of a destroyer when a kamikaze pilot took the ship out. He floated for nine days and then came back for more. When I first met him, he was a weak, round little man, utterly dominated by Eldenath's overbearing mother. He had a weak, weedy little voice, almost as though from a cartoon.
As the years passed, he deteriorated even from that, and the last time I ever saw him, he needed a walker. Yet once he must have been incredibly impressive, a real World War II swabby who could get blown off a ship and laugh about it. Such is the unencompassible horror that is life in a universe where we must all slowly disintegrate and then die.
Eldenath is taking this with great strength. Oh, she is very sad, very very sad, but she is also magnificently strong in the way she bears her sadness. I am terribly impressed with her.
You see, death is my Achilles heel. I am strong about some tragedies, and less strong with others, I am good in a crisis, though I may collapse after the crisis is over, but I am weak against dealing with death. It, above all else, is the one thing I have no coping skills for. No decent ones, anyway, or so it would seem.
When Eldenath's pet rat, Kelly, had to be put down, I decided I had to be there with her. The rodent had grown terribly attached to me, and I to her (despite my best efforts to avoid liking the little vermin), and I could not conscience failing to be beside her in her last moments. The vet put her down gently enough, but much to my surprise, and the worry of everyone in the pet clinic, I just...fell completely apart. I couldn't stop crying, I couldn't breath, I was utterly, pathetically useless. They feared for me, it was so bad. Utterly pathetic. It was Eldenath's rat, but she had to take care of me because I just couldn't cope with the loss.
Like I said, I seem to be weak against the tragedy of death.
Or, as I sometimes wonder, perhaps everyone is, it's just the most people are better at denial.
Elde's sister, an evangelical, displays such hypocrisy; if she truly believed in all of her Superhero Pixie-Dust Christ Heavenly Ever After bullshit, she should be dancing in the street over the death of her father - after all, now he is with Jeebus in paradise. He is to be envied, for he gets all the candy and all the toys, forever and ever. But she doesn't really believe her own fanatical words; she is taking things far worse than agnostic-Pagan-ish Eldenath, and more, is ignoring what Warren wanted done after his death, and putting on a big memorial fuss against his specific wishes.
Funerals are for the living, though, of course. The wishes of dying men are not of interest, once they are gone.
It's strange, how the agnostics and atheists I have met in my life are so powerful, while the magical card houses of the True Believers fall apart when they are confronted with hard and cruel reality. Then again, having people all happy because someone is dead would be frightening; any person so deluded that they absolutely believe death is paradise has little reason to value their own life, or yours. Such a person is capable of anything, any violence, to serve their absolute beliefs. Perhaps the generalized hypocrisy of the religious today is a blessing. Their lack of belief restrains them. At least for now.
While Elde's sister alternately whines and prays, Eldenath cries honest tears of personal loss, then goes on with her life, one day at a time. She knows that over time things will get better, but that for now she grieves. She hopes for an afterlife of pixie magic for everyone, but she knows she has no certainty of such a thing. She understands that she will never hear her father's voice again, and she will follow her father's last wishes to the letter (no funeral, no fuss, spread his ashes on the grave of their long-lost first child). She grasps the magnitude that is death, but she lives with courage in the face of it. She needs no gods to lean her weight upon, she stands upon her own legs.
I share in her worldview, and I try to be courageous, but I cry much harder and longer, and am utterly useless for overlong when such things touch me; which is why I admire her strength so.
But really, the true grief is always about ourselves, isn't it? Yes, we are sad to lose those we love, but worse yet is that in their loss is a glimpse of our own destruction; there is none who will not be as Warren became; from strong soldier to weak invalid, to a terrified mind in a failing body, hearing a last desperate heartbeat in our dimming ear.
This is the true horror of the universe, that we are all lost, and any achievement we may make is but a fleeting illusion, soon in the past, and even sooner forgotten forever. We are made to be immortal, we can imagine living forever, yet we die. It is intolerable, and it takes a strong person to face it honestly.
Eldenath is such a person. I admire her.