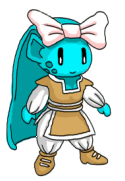 August 4th, 2008
Cruel, Arbitrary and Stupid
The final episode of the new Doctor Who series on the BBC, the 13th and final episode of Series 4 'Journey's End', written by Russel T. Davies, was, to put things mildly, an abomination.
Writing is everything; the script makes the show. A show -or comic, or book, or play- with primitive sets, or special effects, or poor illustrations can still be special, even brilliant, if the writing is good... but the finest production values in the world cannot save a story that is wretchedly crafted. A good story can elevate the most simple production, but a bad story will kill the spirit of the most elaborate production.
I've followed Dr. Who for my entire adult life, I am a fan of what is the longest running science fiction program in the world. It matters to me. Thus, having a truly awful end to the fourth season of this venerable show's reimagining upset me. More than this, because of how the program was horrible, it shook my confidence in my own work, in To Save Her.
Without delving into minutiae, this last episode of Who heaps a completely arbitrary, cruel, and ultimately stupid tragedy on a beloved main character, one of the Doctor's many human companions. She, 'Donna Noble', a character plagued with very human self doubts and a desire for importance, gains vast abilities only to arbitrarily lose them, as well as her entire memory of her own previous adventures and more importantly character growth, and is relegated to what she loaths the most - an empty, boring, mundane life with no knowledge of her own worth. Forever. This is the tragedy - a death of personality, a death of memory and self-worth.
This loss occurs utterly arbitrarily, as part of a vast deus ex machina, and the reasons for it happening are empty, even stupid. The sequence exists only to cynically -and amateurishly- manipulate the emotions of the viewer, primarily to avoid an overly happy ending to the overall story. A nihilistic twist for no other reason than to end on a sad note. Valueless.
Without engaging in too many spoilers, the end of To Save Her is not entirely a happy one, which should come as no surprise to alert readers, being that the entire story is rather noir in look and tone, and hints abound almost from the very beginning that nothing is what it seems, and what is most likely going on is not terribly nice. It should also not be overly surprising that a lot of really awful things will befall the main characters by the end, and there must be tragic outcomes.
Seeing Dr. Who, as mentioned, shook my confidence in my story, a plot designed nearly three years ago, which I have been dutifully following as the years pass. I fell afraid that the events that are destined to happen in To Save Her might be considered... cruel, arbitrary, and stupid. Just like the ending to season four of Doctor Who.
After a long talk with one of my spouses, where I detailed the entirety of the ending to my tale so that she might analyze it for weakness, I was reassured by her assessment that the future events are not in any way arbitrary, though they are cruel, they are not stupid, but necessary to the story - as indeed they should be.
Tragedy, for the sake of itself, is, I think, an indulgent failure of writing. It serves no purpose, it is manipulative, but also empty. It is the job of the dramatist to manipulate, but what makes such a thing an art is that such manipulation should be to pull the audience into some understanding, or awareness, or comprehension, either of life, or of a character or characters, or of some other thing which has some meaning to the story, and to that audience. This I firmly believe.
Real Life is filled with, even defined by, arbitrary, cruel, and stupid tragedy and loss. Every moment of life offers the possibility of meaningless tragedy and horror, be it tripping over a curb and dying as one's head hits the pavement to merely dropping suddenly dead of heart failure or cerebral incident. Death or disfigurment are as close as the next drive to the grocery, and the loss of loved ones can come without warning, at any time. All of this tragedy happens without any literary nobility or heroism; it happens not to save anyone or protect anything or make a hero, it just happens. One moment, everything is fine, the next, all love and light is lost, arbitrarily, cruely, and in that it is meaningless, stupidly.
Fiction needs to present an alternative. I honestly feel that fiction serves best when it offers us a twisted reflection of life where things have the meaning and nobility and heroism we yearn for in reality, but which simply never exists. Real Life ultimately is arbitrary, cruel, and pointless, it is the art of the writer to manufacture missing meaning and context, to putty the gaps and holes in life with the value and worth that are absent from it.
To merely represent pointless tragedy is to emotionally rape the audience, to hurt them for the sake of hurting them, to manipulate emotion to no end other than the sake of manipulation itself. Such an act is a kind of literary sin, I think.
But - if a story requires it, if it should illuminate a character or an idea, if it should embody something, or enoble something, or enlighten the audience, if it has the point to it that in real life it would normally lack - then tragedy becomes an honorable tool for the author to use.
For example, if a beloved character should simply, randomly be killed, merely to have the audience weep... this is a literary crime.
But if a beloved character is killed off and by that death illuminate the nature of, say, hubris and pride, or the pathetic worthlessness of vengeance, or if the character dies in an act of self-redemption and self-sacrifice that speaks to the desire of Man for inner nobility, then such a death might become worthwhile. It is the miracle of writing that it can turn a loss into a gain, that it can take a tragedy and dress it in meaning such that the death or loss gains some form of meaning.
Good tragedy, I think, is meaningful loss. It can happen by any means - accident, happenstance, deliberation, anger, the means are not important - the difference is that unlike life, the loss is not arbitrary, nor is it stupid. A well crafted loss is one which some part of us can see coming, or at least understand the principle behind, one which seems to have about it a kind of fatedness, or at least inevitability, even if we only realize it after the fact. Above all, it should show us something about something, such a loss should illuminate some point within the story itself, in short, it should add, rather than subtract.
In Real Life, loss only subtracts. This is why fiction is fictitious.
To Save Her is a noir Unicorn Jelly story. It is dark, it is black and white with deep shadows, and the characters have hidden, and suspect, agendas. It is inevitable that tragedy of some sort must occur, the only question is how, to whom, and what form it will take.
It is my great wish that when this inevitable tragedy strikes, the audience will not be left empty, that although they have suffered a cruel loss, it will speak about the central theme of the tale, that it will illuminate, that it will be a necessary component, and ultimately, not stupid, not pointless. I think, and I have been advised, that I have nothing to worry about. Cruel can be accepted, if it is not stupid, and arbitrary can be accepted if it is not stupid; ultimately everything depends on events not being stupid. Which is to say, pointless.
May the rest of my story not be stupid.
I guess we shall see.