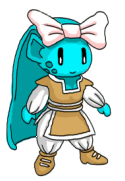 December 1st, 2008
Junky No More
No comics this week, and the reasons are multiple, if you are interested.
Thanksgiving was... complex, we had a house guest, a friend of the family, and while nice, the whole affair was just too busy to permit getting any work done.
But there is more, and that is what the title here refers to.
A decade or so ago, I had a massive panic attack. Just massive. Out of the blue. And it didn't shut off. Ever. So, after many days without sleep, shaking, unable to do more than huddle in absolute terror -for no reason- my doctor at the time stuck me on Xanax. But first she put me out like a light on really hard drugs, just to get me to sleep. It worked, and though I was still constantly in debilitating fear, at least I was not permanent hospitalization bait anymore.
Turns out I have the genetic form of anxiety disorder; the same condition put my mother's sister in an institution for life. My mother had a milder case of it, but she really broke down when I was around 11 - she was never the same. It usually tends to hit people in their 20's, but for my mother and me it was very much an exception. She had her condition blow up when she was 59 or so (she had me very late in life) and for me it was my late 30's. Mine was far worse than hers.
Xanax is not a drug doctors like a person to be on long term, so after a long 'drug roulette' my doctor eventually decided to put me on Klonopin for as long as needed, and goddess I needed it. Klonopin worked even better, and was the only drug she had tried on me that both worked well enough, and also didn't have some nasty side effect. Klonopin it was.
Now Klonopin is a tricky medicine, in that while it works really, really well at controlling anxiety, as well as controlling blood pressure nicely, it does have many various little side effects, among them making a person fairly dopey, and forgetful, and generally out of it. I used to be really sharp, bright, intelligent, and quick minded. I could keep up with the brightest folks. I was also a little on edge all the time too, but then again, my mind was always racing. I miss being that me. I miss being bright and clear.
Also, studies seem to be indicating that Klonopin may be just the teensiest bit carcinogenic, and I really do not like that notion one microscopic bit; so I am trying, for the second time in my life, to wean myself off the stuff.
Some claim that Klonopin stops working as an anxiety medicine four months after starting it; the claim is that tolerance renders the stuff useless. I don't know if that is true - personally I do not accept it. But I am willing to hope that it is true, because if it is, then there is some chance I can get off this stuff. I have been very stable and essentially terror-free for years now, better even than in my childhood (I have always felt a constant low level of mindless fear, my whole life, I never understood why until my panic attack, and my diagnosis with the genetic form of anxiety disorder. Who knew? - They certainly didn't understand it in my mother's day), so maybe I have somehow found a cognitive solution to coping with my anxiety. Maybe my brain may have found a way to wire itself around the problem, given all the time on Klonopin.
Whatever the case, I want to see if there is a way to not have to be on this drug for the rest of my life. I want to try, anyway. Again.
You HAVE to wean yourself off of this type of drug very, very slowly. There is no option other. You can literally die from sudden withdrawl; the damn stuff is arguably one of, if not THE, most addicting thing on the planet. We're talking worse than heroine or nicotine here, incredibly, seriously addicting. Convulsions, organ failure, flipping out, the works. It's nasty medicine.
I have dropped my total dose by one quarter; I currently take 75% of my prescribed dosage. It is the smallest amount I can consistantly cut my tiny, tiny pills into. Quarters. Eights would be impossible, the thing would just crumble into powder. The pill is small; I could fit fifty of them across the palm of my hand without laying one on top of another. I use a razor blade and magnifying glasses.
It's been a week, and I already feel it; I get tiny muscle cramps all over, and I feel tiny, weak moments of unreality, and of course the fear is back a little bit. Enough to annoy. This is expected; it will take a long time, months, for my system to adjust to this change. If, after two or more months, I am stabilizing, feeling unafraid again, and feeling physically OK again, then -and only then- will I consider dropping my dosage by another quarter. I don't expect to be off this damn drug short of a full year, minimum.
And it may not work. February may roll around and find me just as messed up, or worse, than I feel now. If that happens, I may need to toss in the towel and resign myself to either a life on this stuff, or having to face 'drug roulette' again to find some other medication that does the job without messing me up worse. Drug roulette (Here! Let's try THIS for a few weeks and see how you do!) is one of those special kinds of hell. I am not eager to repeat it.
Trying to wean off of Klonazepam (Klonopin) at all does have side effects, and these interfere with my function. It is one contributing factor in why there is no comic this week. I thought you should know.
Am I wise or foolish to try to get off this drug? I don't know. I know I want to not have to take this stuff, and I remember what hell I went through just to find it to replace Xanax, which is even worse, long term. I think that, as long as I take it really, really slow, and watch myself carefully, it is worth at least a try. It would be wonderful if I could just find a way to live on half of my current dosage. Just to get half of my former awareness, memory, and quickness of mind from 14 years ago would be wonderful. Imagine the comics I could draw then!
On the other hand, this is getting rougher as the days progress. I guess we'll see if I cave in before February or not.
One thing on my side is that, according to Sandi, and others, I am not a particularly addictive sort of person. That is to my advantage; then again, this shit is supposed to be very, very severe. I know I couldn't make it last time, but last time I rushed things too much. I'm taking it even slower this time.
Wish me luck, I suppose.