What Is Going On !!!
It has come to my attention that perhaps not everyone reading To Save Her may remember the situation fully, considering how slowly these strips drool out of my imagination (it's been over three years now), and that others may not grasp the weird scenario that has been going on in any case; this is no shame - my ideas are pretty strange, and fairly fringey-popscience bizarre.
In a nutshell, Kaye is freaking out because something so improbable as to be almost impossible is happening to her and her crew, and she can't imagine that her life could be so unique as to warrant such an event.
In To Save Her, my vision of cosmology is that a universe is composed of a cluster of an infinite number of alternate variations of reality, alternate universes - which I have named 'splays' after the way fingers splay from the palm of a hand- all of which are equally valid.
This means that, if my vision is true, then while you sit reading these words, there would be an infinite set of alternate versions of you, existing within every possible variation of the universe you live in, the earth you live on, existing equally and cocurrently with yourself. Some, a percentage of that infinity, would also be reading my words, or rather the words of another me, every possible version of me, who has written every possible variation of this text. Some percentage of the alternate versions of you would have decided to do something other than read To Save Her today; they could be doing anything at all - taking a walk, watching television, eating a snack, commiting robbery, jumping out of a starship, sleeping in a bombed-out nuclear ruin - in every possible version of the earth. A percentage of your alternates are dead or dying, of every possible illness or situation. Some percentage was never born, or died in childhood.
Your existence, overall, would be then the sum of all your alternate versions of yourself, just as the existence of an entire cosmos is the sum of all the alternate splays that make it up. One can visualize this, as has been shown in the Mover's holographic control sphere; a vast plane stretching to infinity. At an arbitrary point we find where we are now, our splay, our world, our time. As we move out, away from our map pin, we find increasing difference from our version of reality, somewhere, perhaps miles across that infinite plane, we are evolved lizard-people versions of ourself, and not even primates. But closer to home, mere feet away, the only difference is that we wore blue instead of red, or that we went for a walk instead of sitting in front of a computer.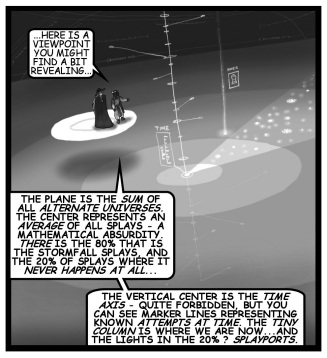 We can imagine that vast plane conceptually divided into pie slices as well, and these pie slices represent rainbow shadings of similar realities. For example, the slice that composes, as on a clock face, the space between 6 and 9 are all the splays where we are already dead, whether in childhood, never born, or recently killed. A slice between 5:00 and 5:02 represents all the versions of reality that share the commonality of science having advanced incredibly far on earth; in those splays you live an immortal life where technology has conquered not only disease and death, but the very stars themselves. The region of that pie slice closest to our map pin represents a version of reality where, just tomorrow perhaps, it is announced that hidden super-science is about to be made public, or first contact has been made, or that Area 51 really did hide alien technology. Those further away are where Mankind is fundamentally more cooperative and compassionate, as well as curious and secular. All of these slices are arbitrary; they blend into each other.
And every pie slice is infinite - it stretches out to infinity on our holographic plane.
With this vision, we can see that while all possibilites exist infinitely, and thus would would think them all equally likely to occur - being that infinity is infinity, this isn't the case.
There really are greater numbers than infinity.
What I have just described is an Aleph Number. One standard infinity is written with the first letter of the Hebrew alphabet, alef, or aleph, followed by a number-

0. Aleph Zero.
The first greater infinity is

1, or Aleph One, and it is an infinity inside an infinity. How can this be?
Consider a ruler. Make that measuring stick infinite in length - it starts at one inch and goes to infinity inches. That means that there are an infinite number of... numbers... on that measuring stick. I assume the numbers are printed smaller and smaller, plus using scientific notation.
But what about the fractions of an inch?
Imagine that ruler has more divisions than just eights and sixteenths of an inch, let's imagine that this ruler is special, and can measure any portion of an inch, however small. Beyond the scale of an atom, below the level of the quark, smaller than subatomic strings - to infinity in fact.
In this case, every division, every inch our our infinite ruler also contains it's own infinite set. Every inch of our measuring stick is itself an infinity of smaller and smaller measurements: an infinity within an infinity. That's what Aleph One means. The infinite ruler by itself is just a standard infinity, Aleph Zero.
The Mathematician Georg Cantor worked out that there is no end to Aleph numbers. What is Aleph to the power of Aleph, I wonder?
An infinity of infinities. It beggars the imagination, mere Aleph Zero infinity is hard enough to grasp!
But I digress.
The holographic plane we started with is, as described thus far, Aleph 1. It is an infinity of infinities, just like the example with the ruler. How? The standard infinity is the plane itself. The Aleph One is to be found in the infinite set of possible pie-slice divisions we can invent, every imaginable way to catagorize or divide up that infinite plane, to say that this universe here, is 'different' from that universe there. Perhaps in one splay only one atom is out of place, otherwise everything is identical. Perhaps in another, only one atom is spinning a different direction, somewhere out in space. However small the difference, we can imagine an infinite set of such universes making up one -incredibly thin- pie slice out of our holographic plane.
We could go deeper, with every infinitesimally small point on our holoplane representing a single universe - or cluster of universes that are maximally identical to each other... in which case we would go to Aleph 2. And so on.
Now, why is Kaye so amazed, shocked, and flustered?
In all of that infinity, imagine how incredibly unlikely it must be for any one Mover to cross its own path through space and time! Multiversal Movers shift to alternate universes, and if illegally modified, can also travel in time, along the worldlines of those many splays.
The chances that a single Mover could even encounter the trail of another Mover, much less cross its own path through infinity piled on infinity is so incredibly, utterly, unimaginably remote that for all intents it would be impossible. Utterly unthinkable.
But, in infinite time and infinite possibility, it MUST happen to someone, somewhere, sometime. That would be an interesting event.
One of the very most unlikely things that could ever happen.
Kaye just cannot imagine that her life, her adventure, is that one. For all of her grand scheme - to prevent the original hyperspace copies of humanity from landing in Tryslmaistan, and thus to alter the whole of history for every last possible splay of her universe, to change all histories, everywhere, simultaneously, so that no humans would ever be born in Tryslmaistan- the concept that her Mover could pass through its own temporal tail is magnitudes more unlikely. For her, it would be like proving that the multiverse is really made of cheesecake, or for you, my reader, to learn that your real world life is actually just a cartoon strip on the super-internet of some species of hyperdimensional monsters. For real.
She can't accept it. She can't encompass it.
That is why, even in the middle of fighting Mr. Pho, accidentally killing Virtue and freaking out about that, and having Wailan yell at her, she can get all faraway looking and stunned: the impossible is happening, and it wasn't a dream, and it wasn't some other explanation, such as they had originally passed through a similar but different Mover.... no. What they originally passed through was actually, really themselves, and Kaye has just learned that her story is the most unusual story of any being that ever lived, and she can't accept it.
Not to her. Not to the disenfranchised token Booger who used to work as a historian and who went to a psychologist to deal with her feelings of alienation and rage. Not to the emotionally broken little Jellese who got picked on by her own people for being a sell out. Not to her, in the middle of her attempt to make everything 'right' and 'correct'. Impossible.
Infinities are funny things. You can divide them in half and they remain the same. You can multiply infinity and end up with the same amount. You can subtract infinity from itself and end up with any arbitrary number -pick one. Your answer is correct. Gold star. There can be additional infinities hidden in the folds of the infinity you've got.
Dwarfed and overwhelmed by infinitry, it is sometimes surprisingly easy to forget that you are the star of your own show, and that your story is the most interesting story ever told... to you. But it is shocking to think that your story might be interesting in and of itself, even against all of that infinitude.
Kaye, who hated herself and humans (even as she has loved both), conflicted and torn, never a killer but willing to make as-never-was, has suddenly found herself at the eye of a storm of improbability, and everything she held solid and true about herself, and the multiverse, has just come crashing down.
I don't think she can take much more, do you?