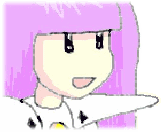 September 7th, 2005
Almost three years...
Goodness...September of the second year of doing Pastel Defender Heliotrope. The comic started on January 8th, 2004, and in but three months (more or less), it will be 2006. I suspect that PDH may well run longer than Unicorn Jelly did, which is something, considering.
Three months to the three year mark, and we are on page 134 now, of the story. Who could have imagined such a work could come of a tiny little Kamishibai creation? I have learned so much doing this comic, and had such fun painting with light, painting for real, on my digital canvas, with a digital pen and tablet.
There are things I wish, of course. I always wish for more readers, but I suppose every author, of any kind, always wants a larger audience! I wish my works could be considered for...oh, say...something like the Eisner Award or something amazing like that. I expect it is all I could legitimately hope for...it is not like I create...commercially viable works. I wouldn't even know where to begin to create a commercial work, and even if I did, I doubt I could stomach it. I am driven to do the...odd stuff...that I do. But it would be neat, I must admit, to have some sort of external, authoritarian validation of my effort. That...would be pretty nifty.
However, I can take great solace in the fact that the wonderful readers I do have, for my little tales of wonder and fantasy, are exceptional people, as can be seen by even a short glance at the forum. Thank you, lovely, lovely people all. It is in your skulls that Heliotrope and her universe have their momentary life.
We are almost to a turning point in the story, for Heliotrope, now. The most crucial event of her entire artificial life.
I can't wait! Apparently, I really like doing this story for you. Yay!